5 Beautiful Bouquets To Give Your Loved Ones On Any Occasion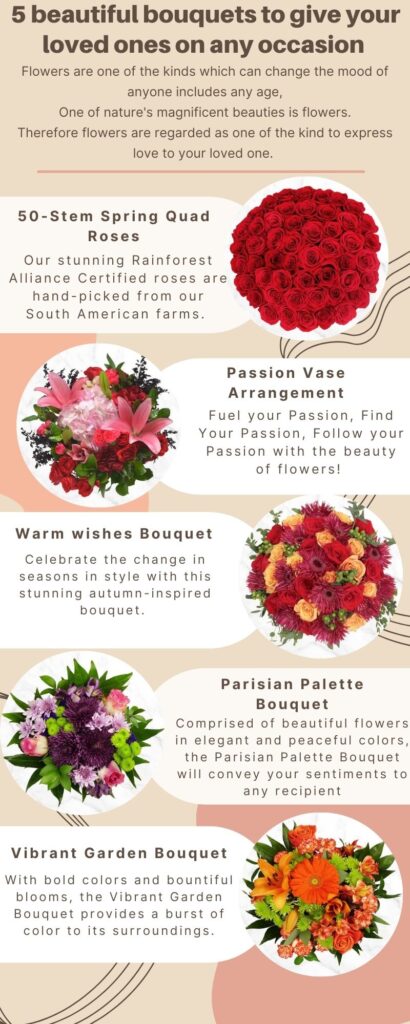 One of nature's magnificent charms is flowers, which are capable of altering the attitude of anybody, regardless of age.
Therefore, giving flowers to a loved one is one of the best methods to show them that you care. Now, flowers are presented to special people with love and care, and Nrigifting is here to help by recommending the bouquets of your choice. When you visit our website, you may browse through our collections of flower bouquets and choose the one that is appropriate for your event.
And with our finest policy, which includes free shipping, once you place a purchase on our website, it is our job to quickly bring the bouquets to your loved one's doorstep. Not only bouquets but we offer so much more like Diwali gifts, cakes, and many more.
50-Stem Spring Quad Roses:
Our stunning rainforest alliance certified roses are hand-picked from our South America Farms.
Passion Vase Arrangement:
fuel your passion, find your passion, and follow your passion with the beauty of flowers!
Warm wishes bouquet:
celebrate the change in seasons in your style with this stunning autumn-inspired bouquet.
Parisian Palette Bouquet:
Comprising beautiful flowers in elegant and peaceful colors, The Parisian Palette bouquet will convey your sentiments to any recipient.
Vibrant Garden Bouquet:
With bold colors and bountiful blooms, the vibrant garden bouquet provides a burst of color to its surrounding