Gifts For Karwa Chauth In Honour Of His Wife's Devotion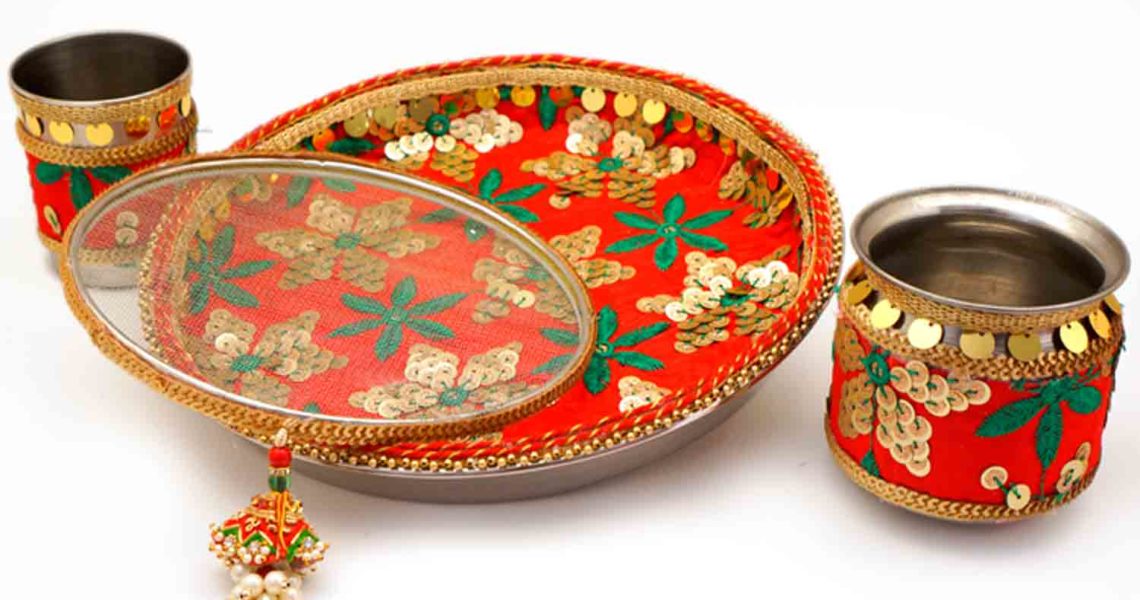 Karwa Chauth is one of those festivals that exemplifies the current spirit of Indian heritage and culture. This festival honors the sacred relationship that exists between a husband and his wife. Karwa Chauth is the most important event for all married ladies since it symbolizes love and demonstrates deep care for one another. On this auspicious day, women fast for the entire day without drinking a drop of water, for the sake of their husbands' health and a long life.
2021 Karwa Chauth
According to the Hindu calendar, Karwa Chauth is celebrated on Kartik ki Chauth. Ideally, this is exactly eight days before Diwali, according to calculations. Whereas the 24th of October 2021 is the day for celebrating the Karwa Chauth this year, according to the Gregorian calendar. The days are not far from here. So why not start looking for Karwa Chauth Puja samagri ?
Karwa Chauth gifts-Buy/Send online in the USA for your beautiful wife
At NRIGifting, we give you an eye-catching array to choose from and send Karwa Chauth gifts online, which you can conveniently order from us while staying at home. You will find a range of bouquets with many flowers and a few vases with distinctive green leaves which are beautifully designed in baskets, joined together with carnations, etc. We have numerous uniquely distinct flowers, such as alstroemeria, lilies, gypsophila, carnations, chrysanthemums, cakes, and other desserts like cupcakes, chocolates, cookies, and also send Karwa Chauth thali set, and many more. Make your wife feel like the most special person in the world with our exceptional gift ideas. On this Karwa Chauth, surprise your spouse with a gift from our fascinating collection in NRIGifting that brings a big smile to her face.
NRIGifting can send Sargi Gifts to Daughter-in-law for Karwa Chauth
Sargi is very important and is presented to a woman by her mother-in-law. If your daughter-in-law is visiting the USA with her husband, she will be celebrating Karwa Chauth 2021 in the USA. The purpose of sending Sargi is for the daughter-in-law to pray for her son's health and longevity. So, even if you have to send Karwa Chauth gifts to the USA, you don't have to be worried. The only thing you'll need is the delivery address. Send her everything you can think of that would be good for her.
NRIGifting can send Pohi gifts on Karwa Chauth
Pohi baya is given to a woman by her mother and is dedicated to her mother-in-law. It is no longer required that it be received from a mother. Trends have shifted, and the daughters-in-law take the utmost care of that too. Items from the Solah Shringar list and an urn full of water are the greatest gifts for the mother-in-law. It's important to make your mother-in-law pleased because she'll be fasting as well. So, to surprise her, buy the finest Solah Shringar products, as they will also be used in the Karwa Chauth Pooja. On this day, you can give her a bridesmaid saree to wear while breaking the fast. Send a karwa chauth thali set with one-of-a-kind festival gifts from NRIGifting.
NRIGifting has Karwa Chauth Gifts for Wife available online
If you've recently married, it might be your wife's first Karwa Chauth. She is deserving of being treated and lavished with the greatest gifts. Additionally, arrive home early so she can spend some time with you. If you've been looking for a perfect gift for your wife's first Karwa Chauth, go to www.nrigifting.com and go through the gift options.
With all the other options, buying a gift online will make the majority of your tasks easier. All you have to do now is choose your wife's favorite gift and add it to your cart. Once your order has been processed, we will make sure to have your gifts shipped anywhere in the world. Apart from India, we also offer free shipping and send Karwa Chauth gifts to the USA, the UK, and Canada. On this special occasion, we will not let you miss out on anything crucial.
Buy the gifts online with NRIGifting without having to worry about searching for the right gift.