Gifts to surprise your siblings with on Bhai Dooj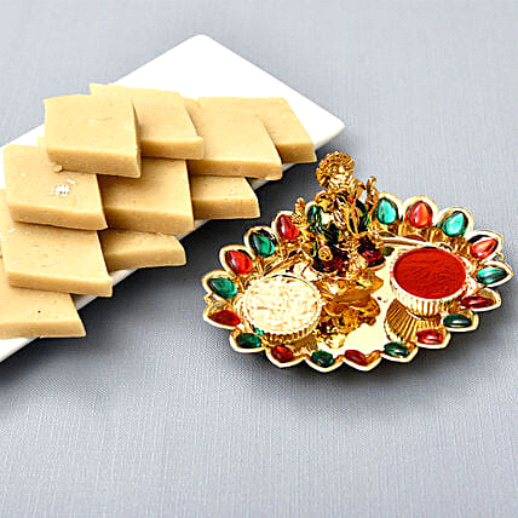 Send Bhai Dooj gifts online and brighten and enliven the occasion of Bhai Dooj with these amazing gifts options provided by NRI Gifting. Bhai Dooj is the festival celebrating the beautiful relationship and bond between brothers and sisters.
Every part of India, each one has its own unusual way of celebrating this occasion. With Bhai Dooj approaching soon, the usual ritual and practices associated with the festival are bound to take place, but what about the exchange of gifts? If you are someone who believes in doing things the unique way and is fed up with gifting the same old things like cash then here is your best bet to consider if you're thinking of buying something different this Bhai Dooj for your brother or sister. With NRI Gifting you can even Send Bhai Dooj Gifts Online to your brother or sister.
But are you puzzled as to what kind of gift to give your sibling this Bhai Dooj? Are you looking for gifts that are spectacular and elaborate and that will probably be the perfect way to add to the thrill and joy of the festive occasion?
With NRI Gifting, you can be guaranteed to get top quality and an array of varied gifts that will definitely make it simpler to choose from and will make your brother and sister happier. Well, in case you're wondering if the distance is going to come in the way of your Bhai Dooj celebration, then you can sit back and relax because NRI Gifting offers free shipping services gifts can be delivered to any part of the world.
Send Bhai Dooj gifts online and brighten and enliven the occasion of Bhai Dooj with these amazing gift options provided by NRI Gifting.
From NRI Gifting, here are some top gift options that you can gift your brother and sister:
Sweets
An assorted box of sweets such as Besan Laddoo, Kaju Barfi, Chhappan Bhog, Mewa Barfi, etc can definitely enhance the celebration. These delicious sweets are an absolutely delightful treat for any occasion along with the sumptuous cuisine that is prepared on this auspicious day. Send this Bhai Dooj gift online and surprise your brother or sister.
Dry fruits
Suppose you're looking for something more affluent and sophisticated here is your pick i.e dry fruits which are also in the form of combos along with a pooja thali or roli chawal. Relish the richness of dry fruits from the different combinations that NRI Gifting has to offer and make your festivity a pleasant and enjoyable one. The Almond with Roli Chawal hamper, and Kaju with Roli Chawal hamper will definitely be a splendid treat for your taste buds
Apart from these gifts, you can even send Bhai Dooj gifts to other countries such as UK, USA, UAE, and India.
Chocolates
If your brother or sister is a chocolate lover then your siblings are indeed in for a rich and tasty treat. The Bhai Dooj Tikka holder with Dairy Milk Silk, Tikka holders with Bounty bars, etc are some ideal chocolate combos to send for the Bhai Dooj. Apart from the ready-made chocolate hampers, one can even opt for handmade chocolates which come along with a beautifully ornamented and designed thaali or roli chawal.
Gift hampers
While there are an ample amount of gifts to choose from, NRI Gifting also offers lavish and elaborate gift hampers. These hampers range from snacks to gourmet hampers to dried fruits, dry fruits, cookies, etc. Most of the food products are common favorites which makes it one of the best Bhai Dooj gifts to send your siblings.
Send gift hampers online with NRI Gifting's extensive and opulent gift collection. You can send gift hampers to other countries as well such as the UK, USA, UAE, Canada, and India.
The Gourmet Holiday Crate
Ciao Italia Tapis Italian Snack Crisps with Olives, Milk Truffles, and Old Fashion Kettle Corn Popcorn are some of the foodstuffs included in this hamper. Send a gift hamper to the UK for your brother or sister who may be living there.
Deluxe Savoury Snack Basket
This nut and gourmet collection is a savory feast that is quite tempting and something that everybody would relish. This assortment includes toffee butter peanuts, spicy trail mix, and dry fruits such as cashews, almonds, etc. This gift hamper is indeed a lavish treat to look forward to for Bhai Dooj.
A Complete Delicacy hamper
This hamper provides handmade chocolates, pepper and tangy masala flavored makhana, handmade chocolate chakri, and much more. Buy this gift hamper from NRI Gifting and send it to your brother or sister.
Best Gourmet hamper
This delicious collection of multigrain lavash, cheese popcorn, multi-seeds jar, and chocolate truffles is very substantial in terms of the products. Make your sibling happier by gifting them this gourmet hamper and make their day special.
Gift hampers are the most ideal and trendy that you can gift your brother or sister. All-in-one sorts of hampers are quite preferred by many since they consist of diverse products.
NRI Gifting's diverse collection of gift products will indeed make your Bhai Dooj celebration a joyous and momentous one.